Join a 12 Fixes to Healthy Group Challenge with a friend or take this 12-week challenge with your group or organization.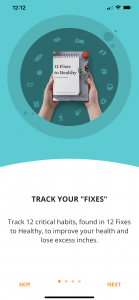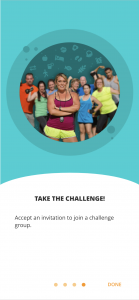 Challenge Program Benefits
This evidence-based, dietitian-led program can help you improve your health, lose excess inches if needed, reset your gut health, strengthen your immune defenses, help slow down cognitive decline and feel better overall with friends, family members, or coworkers!

Doable and Sustainable
This challenge program is DOABLE and SUSTAINABLE! The challenge starts with just one Fix and adds the Fixes one at a time over the 12 weeks. Plus, doing the Fixes 80% of the time gives you full points, so there is wiggle room.  
What Are the 12 Fixes?
FIX 1 SWAP SUGAR
FIX 2 PLAN PROTEIN
FIX 3 BOOST GUT
FIX 4 PUSH PRODUCE
FIX 5 EAT EARLY
FIX 6 MOVE MORE
FIX 7 WATER WELL
FIX 8 SHIFT SURROUNDINGS
FIX 9 SWITCH FAT
FIX 10 CHANGE GRAINS
FIX 11 MUNCH MINDFULLY
FIX 12 SLEEP SOUNDLY
Book & App
This challenge uses the 12 Fixes to Healthy book (included) and the simple-to-use free app, 12 Fixes, to track the Fixes and tabulate challenge points (Google Play and Apple stores). An RDN will take you and your group through each Fix with a weekly check-in and Fix highlights meeting that will also be recorded for everyone to view at their convenience if not available to come to the live meeting.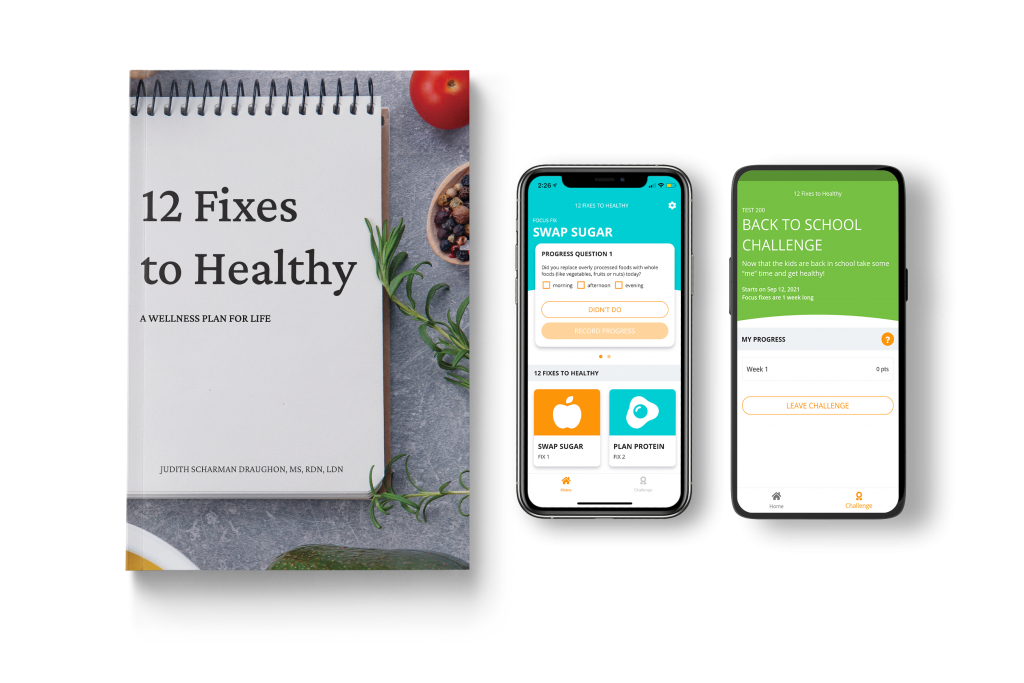 Sign Up Now
If you have been thinking about improving your health, NOW is the time.
Give the gift of health this holiday season! Treat your friends or family members to a spot in the 12 Fixes Group Challenge! We have a Black Friday sale going now. Ends December 1, 2021.
Email me at judes@12fixes.com to sign up or complete this brief form and I will follow up with you. Groups are forming NOW!
Testimonials
"This 12 Fixes challenge is awesome and has helped me in many ways. I had many wrong ideas about dieting, but I appreciated the "be patient, don't beat yourself up" approach that resonated throughout the challenge. Following even some of the fixes got me results. Thanks for the coaching during the challenge. I feel like I've graduated to a new and improved lifestyle!" – Laurence Halinsky
"I've lost 25 pounds and 5 inches around my waist during this 12-week challenge by following the fixes in the book, 12 Fixes to Healthy. By focusing on 1 new habit per week with the group, I've been able to integrate all of the 12 Fixes into my daily routine and feel so much better as a result. It really helped to read the corresponding fix chapter from the book during the challenge for lots of different ideas about how to make the fixes work. Plus, it's all doable stuff. I'm a busy mom with little kids and a baby and I've still made it work for me with only a little bit of effort.
Besides losing inches, I've gained a lot of good knowledge and adopted good habits during this challenge that I will have no problem continuing." – Ruth Ashton
"I have been doing the 12 fixes in a 12-week challenge with some friends. We are on fix 11 right now. The challenge and book, 12 FIxes to Healthy, has been a great help in changing my eating habits to become healthier. It's not like a diet but a way of living healthy. I plan to follow what I've learned long term. The health benefits are well worth it. Plus, my doctor is pleased!" – Terry Brixius
"This 12 Fixes challenge and book has been life changing for me. I started reading the book, 12 Fixes to Healthy, 12 weeks ago at the beginning of the challenge and incorporated each fix a week at a time. I feel amazing and my husband has commented several times with how happy he is with the way we have been eating. The presentation of the fixes through the book was really helpful. It is packed with information backed by science, great ideas to better incorporate the fixes, and it is very well organized.
I liked the challenge so much that I joined another 12-week 12 Fixes challenge with my mother, sisters and sister-in-law. I can definitely say that the 12 Fixes helped me have the best pregnancy and postpartum experience yet."– Stephanie Ackerson