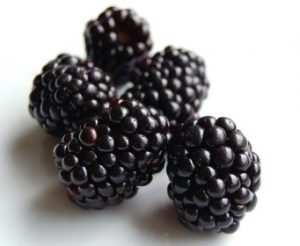 Blackberries are bursting with flavor, nutrition, and antioxidants to help the body fight free radicals. They contain some of the highest amounts of fiber and lowest sugar quantity of any fruit. Blackberries are the perfect fruit to eat to help prevent cancer and other chronic diseases like heart disease and diabetes, while still enjoying scrumptious food.
Just one cup of blackberries contains 8 grams of soluble fiber (the kind that helps lower cholesterol), one gram of fat, rich in heart-healthy omega-3 and omega-6 fatty acids, and 2 grams of protein, for only 62 calories. Blackberries also contain a whopping 50% of the recommended daily value of vitamin C, 47% for manganese, and 36% for vitamin K.  They are also a good source of vitamin E, folate, magnesium, potassium, and copper.
Blackberries lead the pack in powerful antioxidant content. They were ranked number one out of 1120 antioxidant foods consumed in the U.S. for total antioxidants by the U.S. Department of Agriculture. They are also extremely high in some of the most potent forms of chronic disease and cancer-fighting compounds: ellagic acid and anthocyanins. The Ohio State University demonstrated how blackberries are able to stop tumor formation in the oral cavity, as well as to suppress proliferation of colon cancer cells. University of Kentucky researchers found that blackberry extract inhibited certain types of tumor cell growth and concluded that blackberry extract may be a potential treatment and prevention for cancer and other inflammatory diseases.
At the peak of their season, June through August, snack on blackberries and add them to smoothies and fruit salads. Try greens with blackberries, honeyed goat cheese, red onions, and toasted almonds with a balsamic vinaigrette for a unique and delicious approach to green salad. You won't be sorry. How about making this Pork Tenderloin with Blackberry Mustard Sauce for a wonderful main dish? For breakfast (or anytime) make this Blackberry Cornbread. It's made with yogurt and Canola oil instead of butter, and yet the taste and texture is wonderful!
Load up on these nutrition-packed super fruits while they are in season and freeze some for the rest of the year. They are so healthy and delicious that it will be easy to take June's (2012) Healthy Challenge and eat blackberries several times a week. Do you have any healthy blackberry recipes or ideas to share? Please share them in the comment section below so we can all enjoy them!