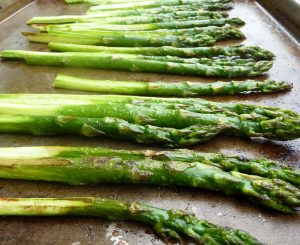 I'm convinced that more kids, teenagers and adults would love eating vegetables if they ate them roasted in a hot oven with a relatively short cooking time.  Roasting vegetables is incredibly easy and brings out the natural sugars in them to make them delicious!
I was visiting my sister recently, and she was telling me how she disliked asparagus.  Her husband had just bought some and was hoping to eat them soon.  I pulled out olive oil, some sea salt and the asparagus and in 10 minutes served her roasted asparagus.  While the three of us ate dinner, I repeatedly heard my sister commenting on how delicious the asparagus tasted as if she was shocked!  Well,
I guess it would be shocking to think you didn't like something for 50 years and then realize that is was not only delicious but incredibly easy.  In fact, that's how I felt about Brussels sprouts when I had them in a restaurant, and they were absolutely wonderful after years of believing I didn't care for them.
All it takes is the vegetable, some olive oil (use a mister filled with olive oil for more coverage with less oil), sea salt and possibly either garlic or balsamic vinegar, as well as a hot oven (375 – 425 degrees F depending on the type of vegetable).  Sweet potatoes, purple potatoes, carrots, red bell peppers, and beets are wonderful roasted while offering great color to a medley of roasted vegetables.  Roasted red onions (whole red onion cut in 1/8 wedges) are especially delicious and mix well with any roasted vegetable.
Try Roasted Brussels Sprouts, Roasted Cauliflower, Zucchini Sticks, and Sweet Potato Fries.  Other recipes that include roasted vegetables are Spinach Mozzarella Nuggets, Roasted Corn and Black Bean Soup, Roasted Pepper and Eggplant Marinara, and Roasted Butternut Squash Soup.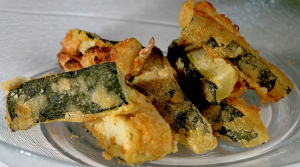 Other kid (and adult)- friendly vegetable recipes include Sweet Potato Pancakes, Butternut Squash Macaroni and Cheese, Kid-Friendly Brussels Sprouts, and Healthy Mushroom Croquette (call it a burger; because the mushrooms are ground, the texture won't be a problem for mushroom-haters).  By the way, they are incredible!
Serve roasted vegetables and watch everyone in the family start eating a lot more of them!