About 25% of Americans dine out on Valentine's Day while others have a special dinner at home. Some people starve themselves during the day to "save calories" for their special meal. You're more vulnerable to overeat at dinner if you come incredibly hungry and food deprived. Feeling uncomfortably full can sabotage the rest of your romantic evening with your sweetie. You may not know that the type of breakfast you eat can help you from overindulging in the evening. Summary: eating breakfast on Valentine's Day will help your romantic night out!
High Protein Breakfast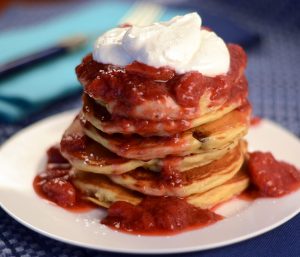 Make sure your romantic breakfast in bed includes plenty of protein. If you eat a higher protein breakfast in the morning (aim for at least 30 grams), studies indicate that you will have less unhealthy food cravings in the evening, and you'll be less likely to overindulge on food (and chocolate). Not to mention, you'll have more energy for the rest of the evening if you haven't overeaten at dinner. No one wants a tired, lethargic Valentine!
Interestingly enough, drinking your protein rather than chewing your breakfast in the morning doesn't help you avoid overeating in the evening. So while protein smoothies are convenient, they don't help curve those evening cravings. Darn!
Rose Colored Produce
Valentine's Day is a festive time to get red produce into your diet. Make use of those yummy pomegranate seeds, strawberries and raspberries, and their power-packed anthocyanins. Adding these red health-promoting foods to your Valentine's breakfast creates a sense of fun to start this special day off right. 
Will Chew Be Mine?
When you eat, remember to chew every bite slowly and completely. Don't make the mistake of swallowing your food before you swallow and make sure not to take another bite until your previous bite is completely chewed and swallowed. This proper chewing etiquette is a simple way to benefit your health while giving your brain time to register when you are feeling full. Chewing slowly and completely also helps you savor every bite. Who doesn't want to enjoy their food more?  
Partner Up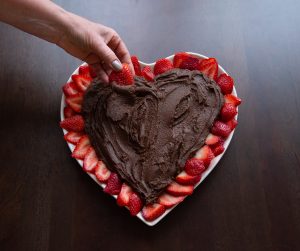 Join forces with your lover to stay on track with your health and weight goals and not overeat. Try splitting an entree at dinner, making a healthy meal at home together, and substituting sweets with healthier alternatives like chocolate hummus. You can also celebrate in ways other than food! 
Valentine's Day Breakfast Ideas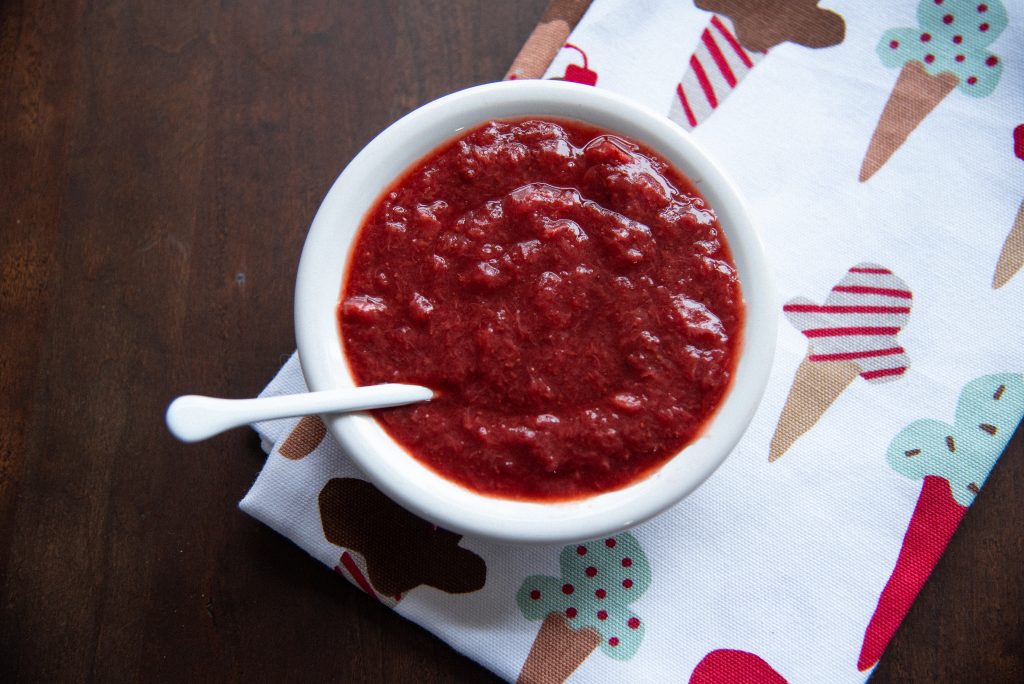 Strawberry syrup using frozen strawberries and chia seed as a topping is easy to make and amazing on so many foods: Greek yogurt, cottage cheese, healthy pancakes, waffles, french toast, and crepes are a few examples. Do you need more yummy high protein breakfast ideas? Protein-packed waffles made with garbanzo beans is another great options.
Also, using cottage cheese (28 grams of protein per cup) instead of milk in your scrambled eggs is a great way to boost protein and keep your eggs from drying out. You can't tell the cottage cheese is there because it melts into the eggs. These eggs just taste better!
Mix cottage cheese (or plain Greek yogurt) with sweetened Greek yogurt to dilute the sugar in the yogurt while increasing the protein. Better yet, start with plain Greek yogurt mixed cottage cheese and sweeten yourself with fruit, raw honey, or pure maple syrup. These oatmeal pancakes are also made with cottage cheese to boost protein and yumminess. Again, you don't know the pancakes are made using cottage cheese, and they sure are good topped with the strawberry syrup I mentioned above. 
Whether you're flying solo this Valentine's Day, or you have been married for forty years, make sure you don't spoil a fun evening by starving yourself in the morning. Try some of the delicious recipes above and get enough protein to keep your brain and body fueled on the day of love! As always, you can find more great ideas on healthy diet and lifestyle choices in the book, 12 Fixes to Healthy.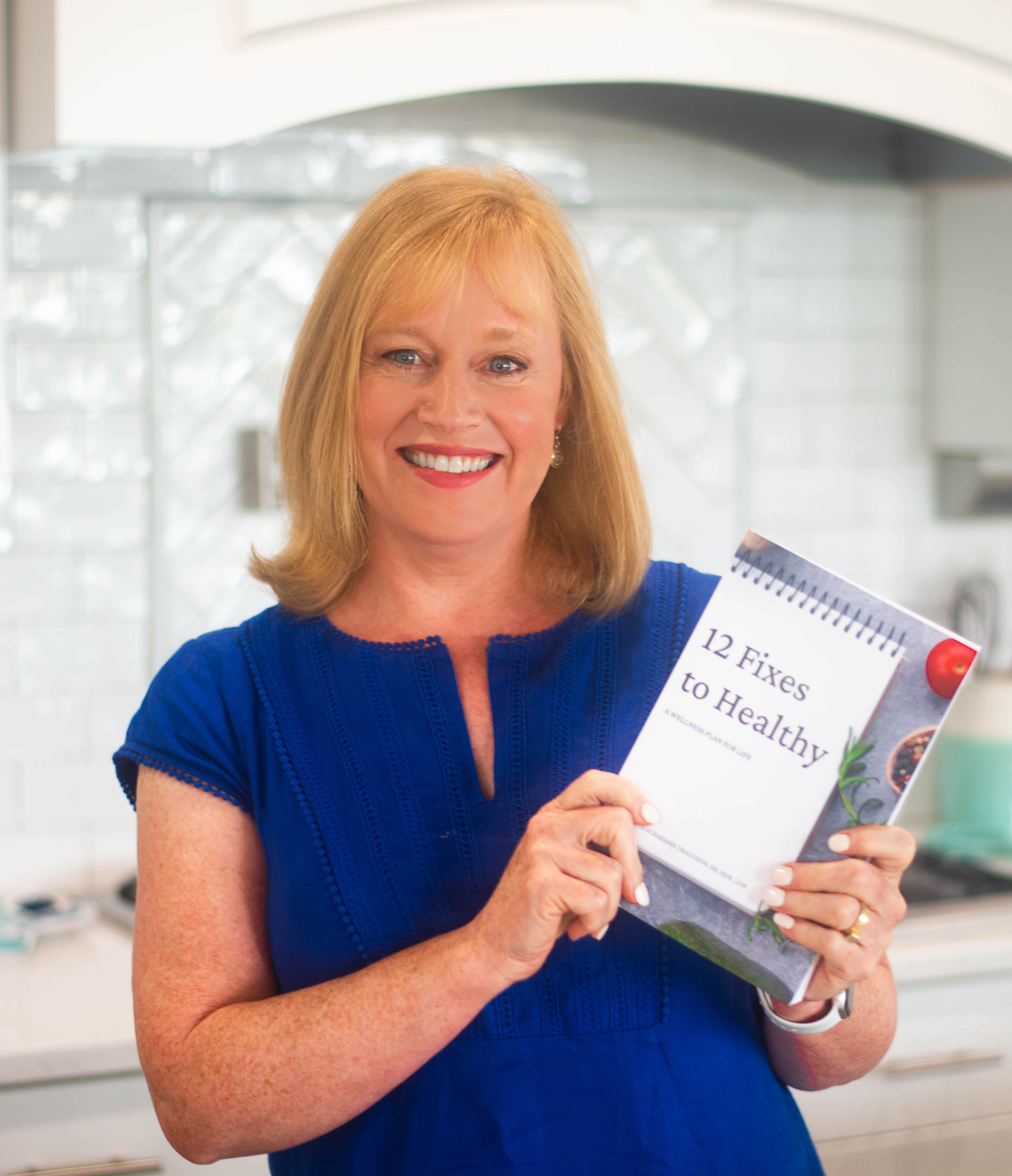 Judith (aka Judes) Scharman Draughon, MS, RDN, LD is a registered, licensed dietitian nutritionist, author of 12 Fixes to Health: A Wellness Plan for Life, as well as a corporate wellness speaker. Judes inspires many with her high-energy nutrition presentations, workshops, and seminars throughout the county. She is known as "Foods With Judes."
Judes is passionate about her quest to empower people to make small changes that make a big difference. She can't wait to empower you!