The mango is one of the most popular fruits worldwide, which is not surprising given its exceptional nutritional content and deliciously unique, sweet flavor.
Mangoes are a very rich source of vitamin C, with a one-cup serving providing over 75% of the total daily requirement. In addition, mangoes are high in vitamin A, vitamin B6, potassium, and copper.  They are a good source of vitamin K, and one of the few fruit sources of vitamin E or iron. Furthermore, the high vitamin C content in mangoes boosts the absorption of iron. Additional nutrients like thiamin, riboflavin, niacin, folate, magnesium, selenium, and manganese are also found in mangoes.
You may be leery of indulging in this delicious food, perhaps because although it is relatively moderate in calories, it is high in sugar. One medium mango (about 1 cup) provides about 100 calories and about 24 grams of sugar. Fortunately, the 3 grams of dietary fiber also found in a mango help offset the seemingly high sugar content. This soluble fiber is called pectin and contain enzymes that help relieve indigestion. Pectin helps to slow the absorption of sugar into the blood stream and to prevent sugar spikes in your blood, as well as to reduce your hunger after eating this nutrient-rich snack. With an estimated glycemic load of 8 out of 250, the sugar content of a mango does not seem to be as much of a concern as long as your total calorie intake is monitored.
While mangoes do contain a variety of antioxidants, they contain a lesser amount than other super-high-antioxidant fruits like blueberry, acai and pomegranate. However, a study conducted by the Texas AgriLife Research food scientists found that mangoes may help to prevent or stop breast and colon cancer growth. The mango has about four to five times less antioxidant capacity than an average wine grape, yet it still holds up comparably well with regards to potentially preventing cancer. So although the antioxidant content of mangoes is lower than that of the super-antioxidant foods, they seem to be similarly protective from free-radical damage that wreaks havoc in our bodies.
Phytonutrients are bioactive compounds in food that promote health by slowing the aging process or by reducing the risk for many diseases, such as heart disease. Research studying cancer-protective phytonutrients in mangoes found that, when compared to eight other tropical fruits, ripe mangoes contain the highest amount of total polyphenols. The phenols found in mangoes, along with their plentiful enzymes, possess cancer and chronic disease preventing capabilities.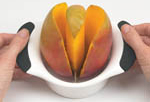 I recently discovered this handy mango splitter by Oxo Good Grips ($12.99 at Bed Bath & Beyond), which makes buying fresh mangoes much more attractive. It's especially useful during the summer months, when mangoes are inexpensive. If the mango is firm, use a potato peeler to peel the skin before cutting it with a knife or the mango splitter. To cut into cubes after splitting, make crisscross hatch-marks into the meat on each side and then flip inside out. The chunks slide easily off of the peel with a knife. Mangoes are much easier to cut if they are firm, so keep them refrigerated once the flesh has even a little give when pressed. Like pears, they continue to ripen off of the tree.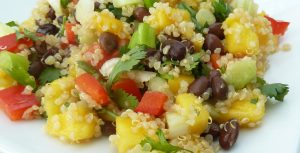 Mangoes make a great addition to salads of all kinds.  Try my brother Bill Scharman's wonderful recipe, called Mango Quinoa Black Bean Salad with Lime and Cucumbers; it is a winner!  Grilled chicken and fish are made even better when served with a Mango Cucumber Salsa, like this one by Ellie Krieger from the Food Network. Cuisines from around the world such as Thai, Chinese, Korean and Indian take advantage of the mango's delicious flavor. Try chicken curries and stir fries with the addition of mango. During the fall and winter, make this healthy and delicious Red Lentil Mango Soup.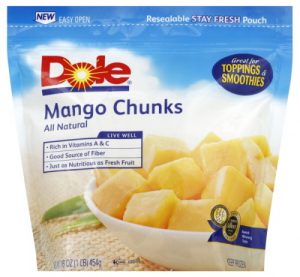 Replace processed snack foods and sugary desserts with fresh or frozen unsweetened mango. My 13-year old, suddenly very aware of her body image, stopped buying less nutritious snacks like pretzels, popcorn and chips at school and began eating  mango chunks, which I buy frozen and are easily thawed. She seems to feel completely satisfied with this switch and, in fact, enjoys eating mangoes more. It's been several months now since she made this change and she has continued to stick with it, so even for teenagers, mangoes seem to be an effective junk food replacement, for both flavor satisfaction and weight maintenance.
Puree fresh cut mango in a blender or food processor. Then pour into ice cube trays, insert a popsicle stick or toothpick, and freeze. Mango ice pops are a refreshing healthy treat that kids love! Also, mangoes have a strong, sweet flavor that tastes fabulous in smoothies.
Your mango options are endless. Take July's (2011) Healthy Challenge and eat mangos. Mangoes are a low-pesticide food, so take advantage of the cheaper summer prices and enjoy their wonderful flavor. This tropical fruit will add a great new dimension to your diet and will be extraordinarily nutritionally beneficial.