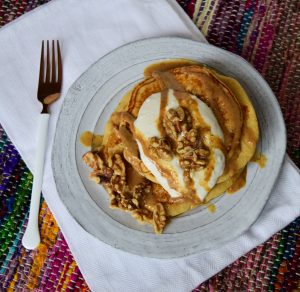 Pancakes for breakfast are an American favorite. However, pancakes loaded with refined flour, topped with commercial pancake syrup are like eating dessert for breakfast. That's not a great way to fuel our bodies in the morning!
A few simple tips can take this "dessert"  breakfast to a different level: both in the way we feel, concentrate, stay satisfied, avoid cravings, and enjoy our meal. There are many ways we can enjoy these yummy traditional breakfast foods while boosting our health at the same time! I love using sprouted wheat flour, white whole wheat flour, or oatmeal in my pancake batter to boost nutrient intake. These whole grains are superior to white, refined flour and are beneficial to health in ways that may surprise you. Learn more about whole grains here. Gluten free flour is also an option, though shouldn't automatically be assumed as healthy since some gluten free flours use quite a bit of corn and potato starch. Kefir or buttermilk in pancake batter also give amazing flavor. They're both cultured, which is good for our gut health, too!
America's in a love-affair with both Mrs. Butterworth and Aunt Jemima. They're home wreckers! My mission is to get rid of them and show you a tastier way. These processed syrups are putting our bodies into fat making mode as we begin the day. Instead, try using pure maple syrup. This syrup is in its natural form and is absorbed into the bloodstream less quickly than commercial syrup. This helps keep us out of fat making mode and makes us less likely to crave more sweets during the day. Even still, try to use less pure maple syrup to sweeten. This shouldn't be too difficult since its sweetness is highly concentrated.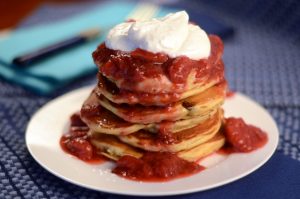 Even better than pure maple syrup for morning flapjacks is my tried and true blueberry syrup. It's essentially cooked down blueberries, chia seed (to thicken quickly and boost nutrition), and a little bit of juice if desired. In fact, you can use any type of berry to make this sauce. The pancakes pictured have a sauce made with frozen strawberries instead of blueberries. Just add a little pure maple syrup if you need to sweeten it up. Using fruit is the best alternative to syrup, but a mixture of fruit and pure maple syrup isn't a bad option to keep Aunt Jemima and Mrs. Butterworth out of the cupboard!
Want Your Pancakes Even Healthier?
Greek yogurt makes the perfect topping for pancakes – it's a topping for your toppings! It adds moisture, creaminess, extra sweetness, healthy microbes, a host of necessary nutrients, including calcium, vitamin D, and protein. Having enough protein in the morning is critical to keep us feeling full and to stop the cravings and emotional eating later in the afternoon and evening. That extra protein even helps slow down the absorption of the natural sugar from the maple syrup and any refined flour that may be used when making the pancakes. I personally like pancakes better with a slightly sweetened Greek or Icelandic yogurt topping. If you haven't tried it, you should; your tastebuds and your body will thank you!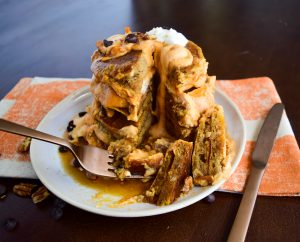 If you like pumpkin, try mixing canned pureed pumpkin with your Greek yogurt. Use plain yogurt and sweeten it with a little pure maple syrup. You can alternatively use vanilla Greek yogurt to sweeten the plain yogurt. Either way, you can enjoy the delicious pumpkin yogurt mix to top pancakes for scrumptious pumpkin pancakes. Add pecans, chocolate chips, and hot pure maple syrup for a taste of heaven!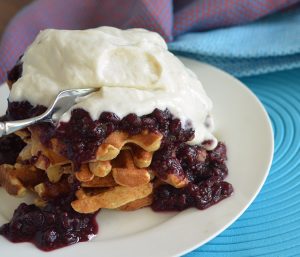 Waffles are another yummy breakfast that have similar healthy alternatives to pancakes. Check out this recipe for Protein Packed Waffles. The waffles in this recipe have chickpeas, dates, whole grains, and Greek yogurt!
Think about whole grain, buttermilk pancakes hot off the pan, topped with fresh bananas, drizzled natural peanut butter, a little warm pure maple syrup, a few dark chocolate chips, and double topped with vanilla or plain Greek yogurt (or a mix of both types of yogurts for your desired sweetness). Talk about mouthwatering! So you see, we can still eat America's favorite breakfast of pancakes and waffles and improve our day, weight, and health all at the same time!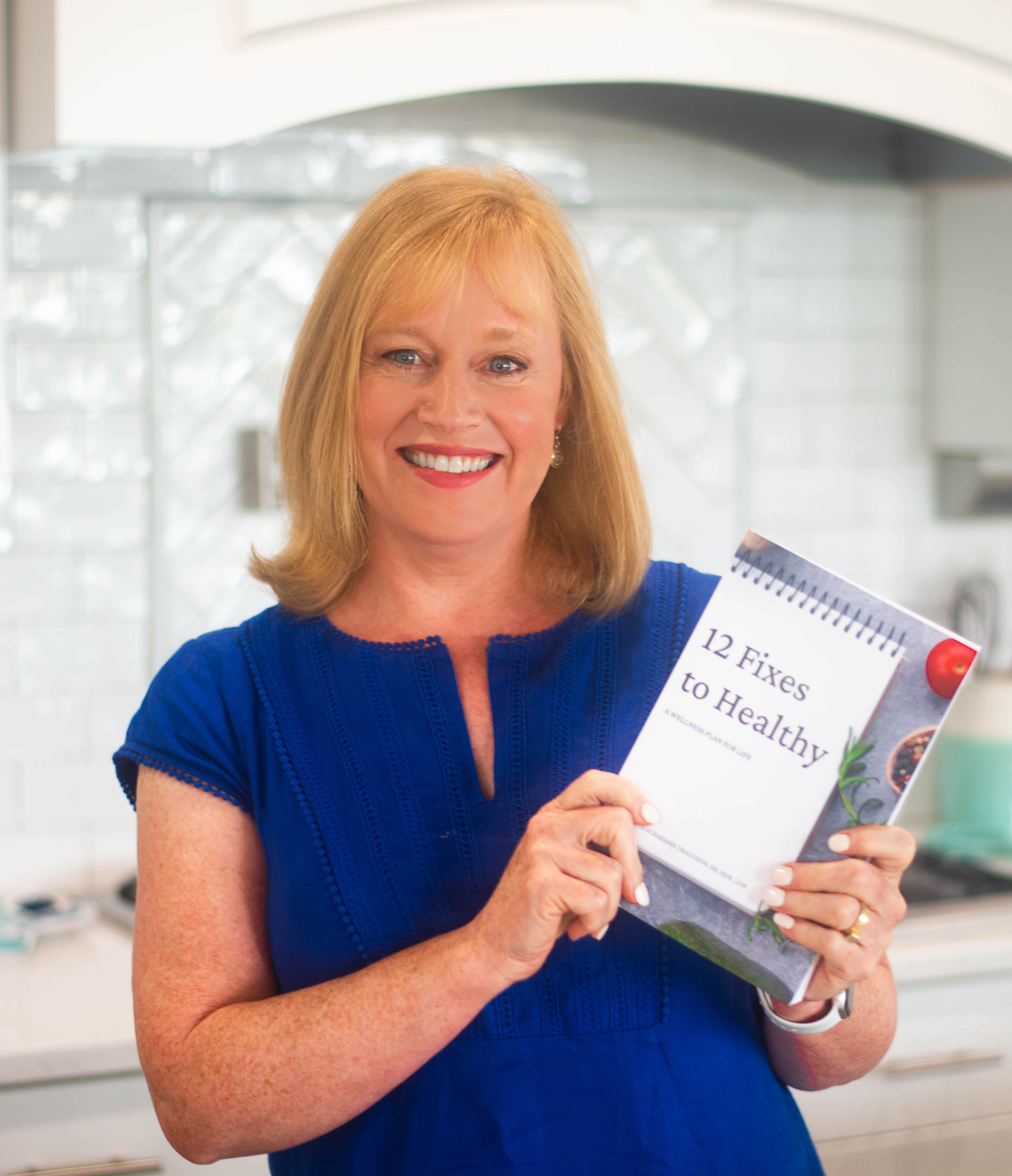 Judith (aka Judes) Scharman Draughon, MS, RDN, LD is a registered, licensed dietitian nutritionist, author of 12 Fixes to Health: A Wellness Plan for Life, as well as a corporate wellness speaker. Judes inspires many with her high-energy nutrition presentations, workshops, and seminars throughout the county. She is known as "Foods With Judes."
Judes is passionate about her quest to empower people to make small changes that make a big difference. She can't wait to empower you!
Let's connect!  LinkedIn, Instagram, Facebook, Twitter
SaveSave
SaveSave
SaveSave
SaveSave
SaveSave
SaveSave
SaveSave
SaveSave