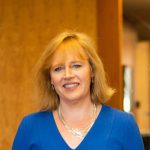 Judith "Judes" Scharman Draughon, MS, RDN, LDN, is a registered, licensed dietitian nutritionist and author of Lean Body Smart Life: 12-Fix Plan to a Leaner, Healthier, Happier Life. She inspires many with her high-energy wellness presentations, workshops, and seminars for organization members, employees, and associates. She is presently in partnership with DMBA's Living Healthy Program for associates for 2019.
She has been dubbed the "How-To-Dietitian" as she shows how to prepare deliciously health-promoting foods while juggling busy lives. She is the owner of Nutrition Educational Solutions, LLC., but is known as "Foods With Judes."
She recently taught nutrition and healthy cooking at the International Culinary Arts and Sciences Institute. She is the mother of four young adult children and resides in North Carolina with her husband.
Judes is passionate about her quest to empower people to make small changes that make a big difference. She can't wait to empower your organization!