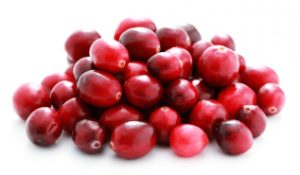 The health benefits of cranberries are becoming increasingly recognized. Their amazing phytonutrient power is where they really shine! The proanthocyanidins have been identified as the active anti-adhesion compound in cranberries that keeps E. coli bacteria, the culprit for most urinary tract infections, from sticking to the lining of the bladder and urethra, which in turn can help prevent (but not cure) them.  In a similar fashion, newer research indicates that a cranberry's anti-adhesion mechanism interferes with the initial step in the infection process and helps prevent infection in other conditions such as stomach ulcers, tooth decay, and gum disease, which have been shown to be inhibited by the presence of consumed cranberries.
Flavonoids function as potent antioxidants, which stop free radical damage, and they may reduce the risk of atherosclerosis. Cranberries contain significant amounts of flavonoids and polyphenolic compounds that have been demonstrated to lower low density lipoprotein (LDL); LDL contributes to the formation of atherosclerotic plaques in the arteries. Ongoing research continues to suggest that cranberries may offer a natural defense against atherosclerosis by helping to reduce arterial stiffness and inflammation.
Cranberries may also help inhibit cancer cell growth in the breast, colon, and esophagus, as well as potentially increase the effectiveness of chemotherapy for ovarian cancer treatment. Full of antioxidants that act as premier disease fighters and other phytonutrients, cranberries may be effective in protecting against heart disease, cancer and other chronic diseases.
Cranberries are a very good source of dietary fiber, vitamin C, and manganese. One cup of whole cranberries contains 5 grams of fiber, 22% of the daily value of vitamin C, and 18% DV of manganese. They also are a good source of vitamin E and vitamin K.
While low in calories, cranberries' tartness makes them challenging to use without added sugar. Combining cranberries with other foods, like in this easy but tasty Cranberry Beef Soup, can help. Try eating cranberries in the whole fruit form as much as possible. Several researchers point out that cranberries' health benefits are stronger when eaten in whole fruit form rather than components of cranberries such as juice and supplements. Many nutrients seem to work together to provide the antioxidant benefits, anti-inflammatory benefits, and anti-cancer benefits of cranberries.
Dried cranberries are still considered whole fruit form, but they have added sugar, so use them judiciously.  Stir dried cranberries into oatmeal or your favorite hot cereal while it cooks. Mix dried cranberries with nuts or sunflower seeds into yogurt for a tasty snack or breakfast. Add chopped walnuts and dried cranberries to a green salad. Use fresh cranberries in this delicious Cranberry Vinaigrette for salads and in this Cranberry Almond Bread.
Take December's (2011) Healthy Challenge and eat cranberries as much as possible to obtain all of the super health benefits that they have to offer! Also, please share cranberry recipes under the comment section if you have a healthy, tasty cranberry recipe.