I can't get enough of this 15-minute soup. It tastes like it been roasting for hours! It actually has, but by Trader Joe's and not by you! It's quick and sooo good. You might be able to find these roasted veggies at other stores, but you will for sure find all the ingredients at Trader Joe's. It's a soup-er healthy, zippy, meal hack.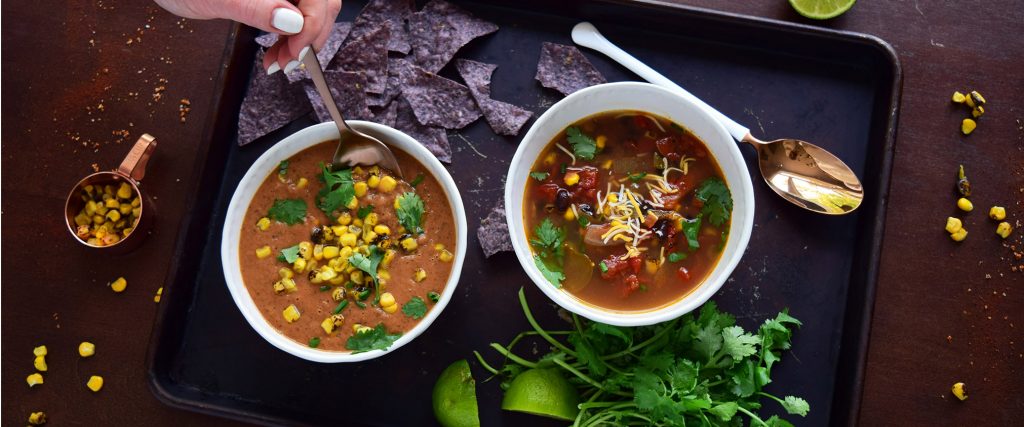 This soup can be left chunky or blended smooth, either way it taste soup-perb (okay I'll stop). The blended version is perfect for those picky eaters who don't appreciate onions, bell peppers or black beans. Shhhh, they'll never know if you don't tell them. Top it with cheese, cilantro, avocados and/or tortilla chips or don't add a thing. It's a flexible meal using frozen ingredients that you can keep in the freezer and make on the spot.
Want to roast your own veggies instead of leaving it to Trader Joe? Check out my Roasted Corn Black Soup and roast the vegetables yourself. It's not hard, but takes more time and pre-planning. You will still want to buy Trader Joe's Roasted Corn. It's a must have!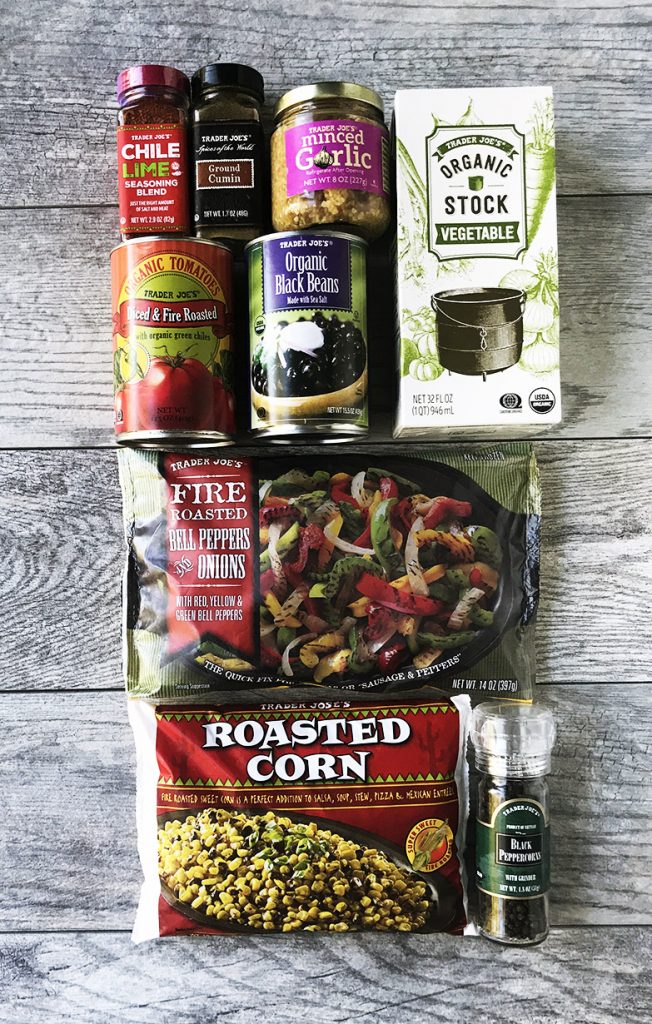 Ingredients:
2 tsp minced or crushed garlic
1 tbsp ground cumin
1/4 tsp ground black pepper
2 tsp Trader Joe's Chile Lime Spice Blend
1 bag frozen Trader Joe's Fire Roasted Bell Peppers & Onions
1 (15.5-oz) can Trader Joe's Diced & Fire Roasted Organic Tomatoes
4 cups (32 oz) Trader Joe's Organic Vegetable or Chicken Stock
1 (15.5-oz) can Trader Joe's Organic Black Beans, drained and rinsed
2 cups frozen Trader Joe's Roasted Frozen Corn (1 – 2 more optional cups to add to blended version after it's been blended)
2 tbsp fresh lime juice (optional)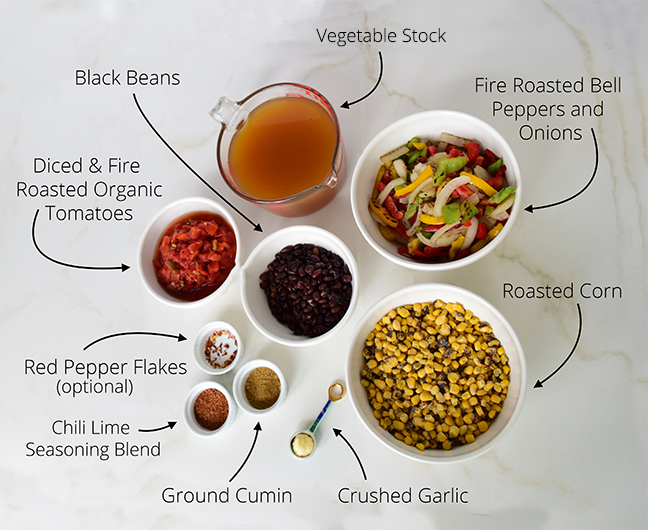 Simply add ingredients to a soup pot. Start with the garlic, spices, and fire roasted peppers and onions; sauté for a couple of minutes. Add remaining ingredients but only 2 cups of corn. Let simmer for 5 – 10 minutes. Leave chunky or blend in a blender until smooth. After blending soup, add 1 to 2 extra cups of roasted corn to the blended version for extra texture. Add hot sauce, red chili pepper, extra salt, or lime juice if you desire. All are optional. Heat through and top with cilantro, avocado, and/or cheddar cheese if desired. Enjoy!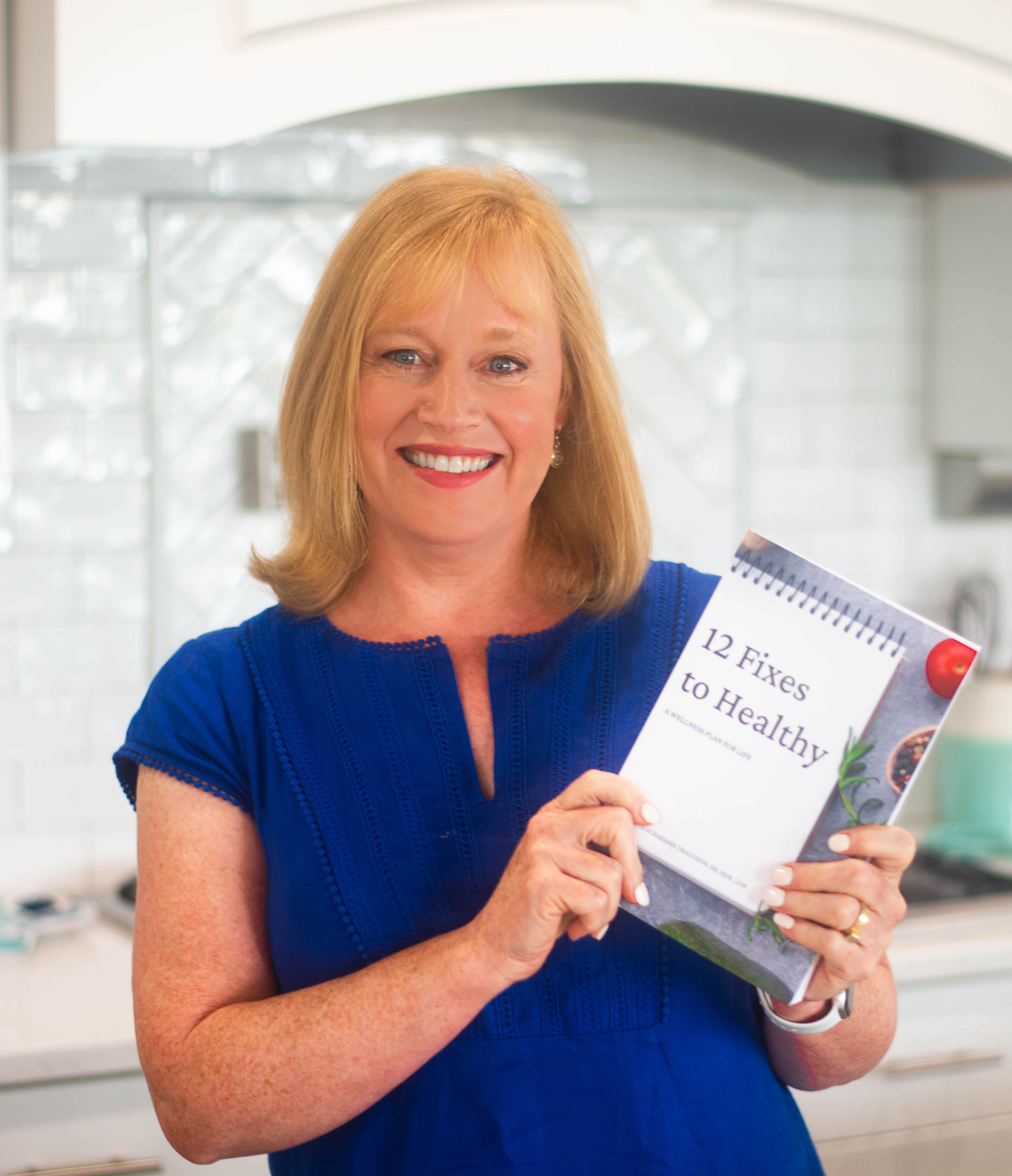 Judith (aka Judes) Scharman Draughon, MS, RDN, LD is a registered, licensed dietitian nutritionist, author of 12 Fixes to Health: A Wellness Plan for Life, as well as a corporate wellness speaker. Judes inspires many with her high-energy nutrition presentations, workshops, and seminars throughout the county. She is known as "Foods With Judes."
Judes is passionate about her quest to empower people to make small changes that make a big difference. She can't wait to empower you!